Local councils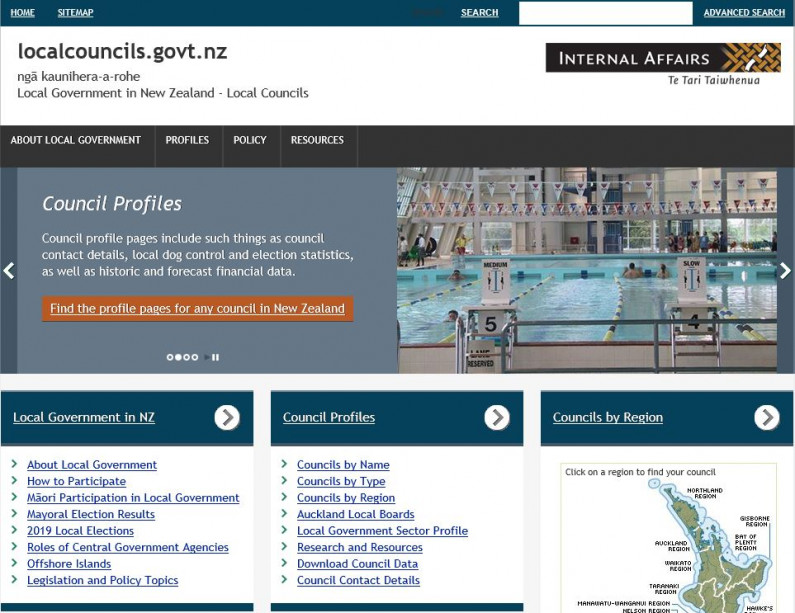 What we do
The Department of Internal Affairs (DIA) is responsible for providing local government policy advice to the Government and administers local government Acts and regulations.
What we created
Where would you go to get financial information for all local authorities in NZ, find out about local election turn out rates – or get information on dog registrations, injury claims and prosecutions?
localcouncils.govt.nz presents data from New Zealand's 78 local authorities, in a consistent format that enables it to be compared and analysed.
It also provides information from other sources that is relevant to council activities – and general information about the structure, roles and responsibilities of local government in New Zealand.
localcouncils.govt.nz was launched in 2005 with only financial and basic organisational information about each council. Now it also provides election, dog control, Census and other data and resources. It is the only place that makes council long-term plan financial data available in a comprehensive collection.
The website is currently visited by over 120,000 different people each year – with over 400 visits per day on average.
Today the site has approximately:
2,200 charts and tables
90 clickable maps of local authorities
25 downloadable datasets (xlsx and csv)
65 downloadable reports, guides, information sheets and other resources, and
3,160 indexed web pages.
How it works
Councils are required by law to report data for a number of key indicators. DIA's Policy Group regularly collects this data from councils' published documents and other sources, applying a rigorous framework to ensure comparability between councils and reliable sector-wide totals.
Data sources:
Councils' historic financials are sourced from Stats NZ Infoshare.
Councils' forecast financials are accessed from councils' published documents (usually taken from the councils' websites), then manually processed.
Dog control data is accessed from the National Dog Database; ACC data on dog-related injuries and claims; and Ministry of Justice data on the number of prosecutions under the Dog Control Act. These are combined into a single dataset.
Rates rebates are accessed from DIA's Service Delivery and Operations Branch.
Election data is produced every three years, after local body elections. DIA sends workbooks to electoral officers then collates the information and carries out quality checks.
Formats
The website contains profiles of each local authority. Under each profile, the various datasets for that council are presented on web pages in chart and table formats.
In keeping with DIA's commitment to making government data open to the public for reuse, consolidated datasets, in Excel and CSV formats, are also available for download.
Reports are in Word and PDF formats.
Benefits
Website analytics indicate that over 1.3 million people outside of DIA have visited localcouncils.govt.nz since it was launched (current as at July 2017).
Users include local authorities, the public, central government, academics/researchers and the media.
The site's dog control data is frequently quoted in news stories and reports published by academics and market researchers.
Economists draw on the dataset of councils' 10-year financial plans to improve their economic predictions.
The election statistics are used as indicators of civic participation both domestically and internationally.
Department staff access the website almost daily for statistics to support policy advice, include in ministerial briefings and inform responses to public and media requests for information.
Challenges
When localcouncils.govt.nz was set up 12 years ago, it was intended that it would operate for one year. However, noting the high number of users and realising the value of the site for both internal and external customers, DIA have kept it running and expanded the range of data it offers.
The website is still on its original platform (Lotus Notes) and is increasingly difficult to maintain.
Opportunities
In the future, pending a successful business case, DIA may migrate the website to the Common Web Platform and update related technology. If this is done, then a feature may be added making it possible for website visitors to manipulate the presentation of data under the council profiles to better suit their interests.
This case study was updated on 31 August 2017.
Contact: localcouncils@dia.govt.nz