Land Cover Database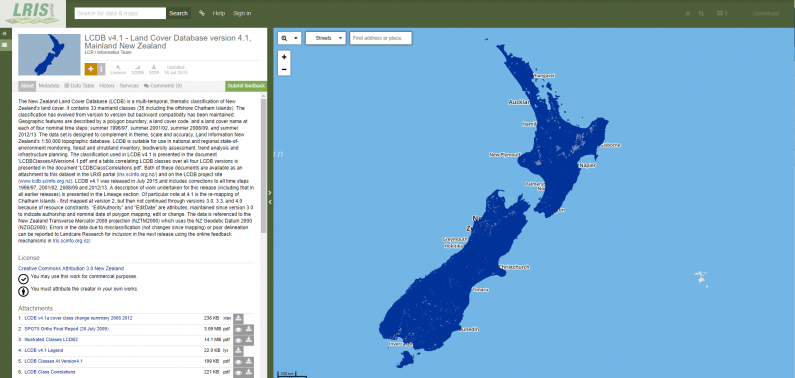 Purpose of agency
Landcare Research is the lead Crown Research Institute driving innovative management of New Zealand's terrestrial biodiversity and land resources to protect and enhance the terrestrial environment and grow prosperity. One of their essential services is the use of land cover datasets and mapping technologies to visualise land cover, land-use capability and effects, and spatial land information.
What has been released for re-use?
The Land Cover Database (LCDB), available to users of the Land Resource Information System (LRIS) portal offers environment data held by Landcare Research for re-use in GIS and other applications that can handle geospatial data for mapping, querying and spatial analyses. User feedback on the data is encouraged.
The LCDB is a classification of land cover and land use classes. It provides a significant and authoritative resource of national land cover data and is also distinguished by providing data at approximately 5-yearly intervals, describing changes in land cover. It has been released under a Creative Commons attribution 3.0 license.
LCDB version 3 was released in July 2012. It includes new satellite data acquired during 2008/09; corrections for earlier errors; and improved line-work representations. Since release it has been viewed 3658 times and downloaded 422 times. The change layer, reconciling changes between versions of the land cover data bases has been viewed 271 times and downloaded 52 times.
Release rationale
Timely and accurate data on land cover are critical for improved land environment management, providing a basis for better resource management decisions and allowing effective use of the natural resource while not compromising environmental outcomes.
The accessibility of this data responds to the needs of regional councils, territorial authorities, and environmental agencies including the Department of Conservation.
Cost and timeframe
Landcare Research received Science and Innovation funding from Ministry of Business Innovation and Employment through a contract for $4.6m to continue to develop the LCDB from 2011–2015.
Economic and social impacts
Researchers and policy analysts use LCDB to quantify the effects of land use on water quality to assist catchment management
LCDB land cover data will be added to the national topographic maps
Geographix, a NZ cartographic business, has adopted LCDB3 as their primary source of land cover information, due to its quality and consistency.
Transparency and democratic impacts
LCDB is a component of the research datasets: River Environment Classification, Freshwater Ecosystems of NZ, Threatened Environments Classification and wildfire behaviour modelling
Its increased user-base justified funding its updated versions
Due to LCDB's success, government has funded research on more efficient processes and techniques to generate land cover data from satellite imagery and deliver it to users.
Efficiency impacts
There were 1166 LCDB2 downloads from 1 July 2009 to 5 Dec. 2011; and 238 LCDB3 downloads since 1 July 2012 – the increase and diversity of its user base was unexpected and justified funding the updated version
Work was undertaken to unify crop and urban classes in the LCDB and the Ministry for the Environment's Land Use Map datasets and is a first example of datasets being used for mutual improvement.
This case study was last updated in July 2013.