Environment Canterbury Public Transport Open Data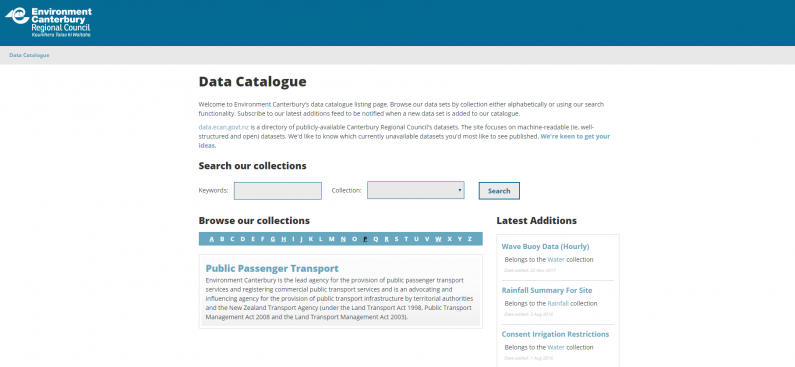 Purpose of organisation
Canterbury's regional council, Environment Canterbury, works with the people of Canterbury to achieve sustainable management of the region's air, water and land resources. Planning a safe, efficient and cost-effective regional land transport system is one of its many statutory responsibilities.
What has been released for re-use?
In May 2005, Environment Canterbury began releasing public transport data for re-use.  The data includes route details, bus stop locations, scheduling details, as well as the real time bus estimated time of arrivals (ETAs).
Initially the bus ETAs were first broadcast by radio to displays at key interchange locations (eg, central city and university).  This only provided data to bus users actually waiting for a bus, but did not address the need for real time updates of changes to routes and timetables more generally.
The data was subsequently made available as web services in various formats enabling a wide variety of opportunities for displaying the bus information via maps and tables.  Environment Canterbury also developed an app and journey planner to allow customers to assess travel option for a future time. 
Formats include Google Transit feed (GTFS), XML, JSON, CSV.
This is Environment Canterbury's directory of all the datasets that are available to the public for re-use.  All the data in the directory is licensed for the widest re-use possible under the Creative Commons Attribution 3.0 New Zealand (CC-BY), unless specifically stated.
Reasons for release
To be responsive to the strong interest from many stakeholder groups for this data, which featured at the top of the list of data requests.
To make it easier for people to access real time information to help people move around the city efficiently given the fluid nature of Christchurch's post-earthquake road works and road closures.
To enable developers in the community to create and enhance apps with the data to meet the identified needs.
To improve transport systems by making it easier for people to use public transport and increase bus patronage.
Barriers to release and mitigation
Concerns by transport operators of increased visibility – The bus services are provided by independent transport operators with service levels monitored by Environment Canterbury. Making real time data publicly available enables anyone to collate and compare service levels for bus timeliness which was a concern for operators. Operators have all supported the data being available, as it meets public demand for transparency.
Expectation of constant availability and impact of poor data quality – This was a potential barrier as data availability is dependent on systems beyond Environment Canterbury's direct control.  The liability risks associated with data accuracy and completeness were mitigated by requiring users to complete a terms and conditions agreement when accessing the data.  Data collected in this process also helps Environment Canterbury understand the user base to inform future data supply and functionality.
Economic and social impacts
While it is difficult to isolate the impact of real time system and the journey planner on changes to bus patronage, survey results and anecdotal feedback indicate a very positive response from users.  Increased patronage has many positive impacts on the operation of the road networks and in energy consumption.
Some apps are charged for, which creates economic benefits in line with the expectations of the Declaration on Open and Transparent Government.  Environment Canterbury apps are free.
Inclusion of data in international apps for public transport provides a valuable service for international visitors. For example, the apps developed by:
Efficiency impacts
Private and public sector organisations (eg, Abley Transportation Consultants, Boffa Miskell, NZTA and Land Information NZ) use the data for their planning and analysis purposes avoiding the cost of gathering their own data and duplicating data.
Online, real time systems for the public has improved the operation of Environment Canterbury's call centre and enabled it to cope as passenger numbers grow.  Now, callers have found the travel information they want and call for clarification or with a question about the online system.
The availability of private sector apps has saved Environment Canterbury the cost of developing apps inhouse.
Increasing the convenience for public transport users to access information about their services, should increase utilisation and maximise the value from public funds invested in the services.
Real time data provides accurate information for users for planning their travel.
Transparency and democratic impacts
The availability of real time public transport data allows the public to monitor service levels.
Environment Canterbury was the first local government agency to adopt the Declaration on Open and Transparent Government.  Making public transport data available continues the existing proactive approach of making data available on its own website.
This case study was last updated in March 2014.
Re-use of this case study is licensed under a Creative Commons Attribution 3.0 New Zealand Licence.