"Tikanga Māori accompanies Māori wherever they go and whatever they do. Tikanga Māori is adaptable, flexible, transferable, and capable of being applied to entirely new situations."

- Hirini Moko Mead

Ngā Tikanga Paihere draws on 10 tikanga (Te Ao Māori - Māori world concepts) to help you establish goals, boundaries, and principles that guide and inform your data practice.
The 5 principles of Ngā Tikanga Paihere relate to a pair of tikanga with detailed explanations of their meaning, the expectations they relate to, and the things to consider when addressing each.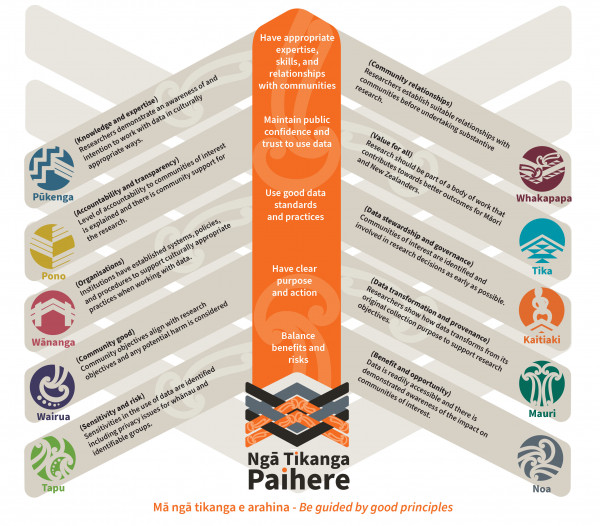 Ngā Tikanga Paihere Guidelines [PDF 1.6 MB]
By asking yourself questions inspired by ngā tikanga at the beginning of your data use, Ngā Tikanga Paihere helps you:
guide your safe, responsible, and culturally appropriate use of data
ensure your data use is carefully considered
ensure your data practices occur in good faith.
Mā ngā tikanga e arahina - Be guided by good principles.
We originally designed Ngā Tikanga Paihere to help Stats NZ manage access to microdata in the Integrated Data Infrastructure (IDI). However, we are also exploring many other areas in which Ngā Tikanga Paihere can guide responsible and ethical data use. Contact us to learn more or explore your context.
Integrated Data Infrastructure
Apply to use microdata for research
How to apply Ngā Tikanga Paihere to microdata research projects
Contents
Contact us
If you'd like more information, have a question, or want to provide feedback, email datalead@stats.govt.nz.
Content last reviewed 23 November 2020.