HuntingSpots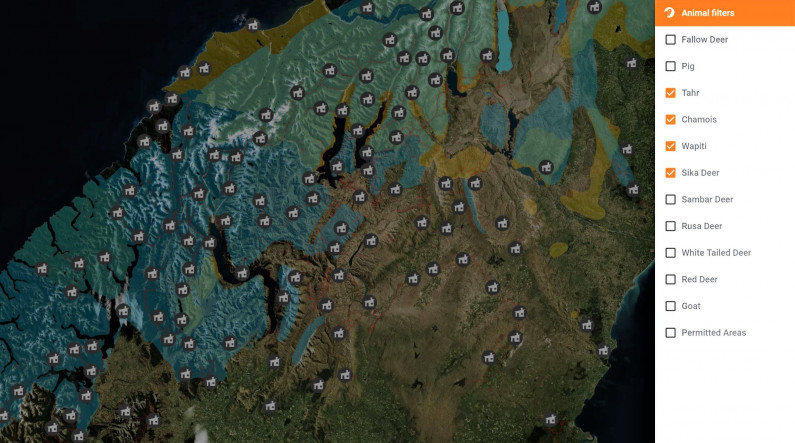 Huntingspots.co.nz is a web tool and app for hunters and adventurers in New Zealand.
The purpose of the tool is to help people plan their trips effectively and to increase safety.
How it works
Hunting Spots has a growing range of features. The initial build focuses on game hunters who can figure out where to go on their next hunt based on the game they're after, the terrain that suits them best, the availability of huts and tracks, and so on.
Users can pin or draw locations of interest onto maps, and save these.
Datasets
Hunting Spots currently uses data from:
Department of Conservation (DoC): Animal distribution, huts, tracks
Ministry of Primary Industries (MPI): Fish distribution, spawning and probability
Land Information New Zealand (LINZ): Maps, roads, topography.
Challenges
The development team told us that this data has been invaluable to get the project off the ground. However, it has some limitations.
DoC's application programme interfaces (APIs) are very good, but unfortunately the data is not very current.
It would be very helpful if the data from MPI was available by API, as this would reduce the amount of manual work to update it within the Hunting Spot tool.
LINZ's data is very good, but the 2GB download limit is frustrating to work with. And as users who were unfamiliar with the LINZ Data Service web interface, the team didn't realize there was an API (an interface to query at machine level) and found it difficult to find the specific data they needed. (Hunting Spots is now more familiar with the Data Service web interface and LINZ is aware of the usability issues with their site and the challenge for users to find the right data amongst their many open datasets: they have a roadmap of work to address these issues over time.)
Open data wishlist
A range of data is key to enabling this tool meet the needs of people who are hunting, fishing and tramping, as well as being a potential conduit for crowdsourcing updated data and helping reduce avoidable injuries.
The development team would like to feed in real-time weather data from MetService for increased health and safety for those planning trips into the outdoors. Current weather data could also be a contributing factor in calculating the probability of hunting or fishing success at any given time. However, the current cost to access the weather data is prohibitive.
Consistent and timely river flow data nationwide would also contribute to health and safety and would be useful for calculating the probability of success in fishing.
The dev team would like to reuse fish distribution and satellite imagery showing water temperature from NIWA, but their licence to use the data does not permit commercial reuse.
They would like data on deaths or injuries in the outdoors in order to identify high risk areas and heighten safety awareness for people going to those areas.
Data from Osprey on past and future scheduled 1080 drops would also contribute to health and safety and help prevent wasted trips to affected areas.
The development team would like to eventually be able to feed back data to organisations such as Doc and MPI through users of their tool, effectively crowdsourcing animal distribution data to augment data held by the agencies.
Benefits
This tool is an excellent example of how bringing together multiple datasets can create a rich and very useful tool - much more so than could be done with any of these datasets individually.
It shows how open data can be used to improve health and safety; could be used in creative ways to predict the probability of success (in hunting and fishing); can help save money spent on pointless trips (and carbon emissions); and can build a community of interest.
This case study was last updated on 27 July 2017.