Raraunga Ara Rau – ChatGPT and Generative AI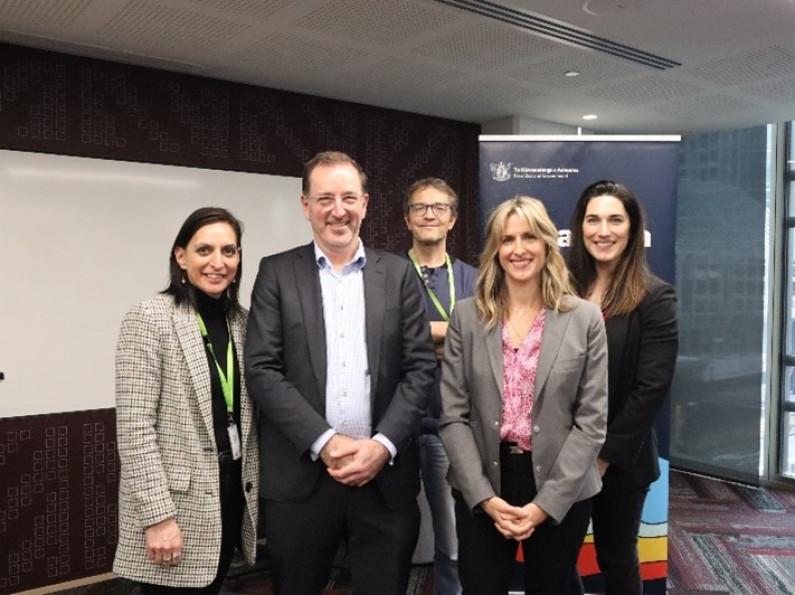 On Wednesday last week our latest GCDS speaker series, Raraunga Ara Rau, took place at the Stats NZ office, with the attendance of 56 in person and 86 online across the data system.
We were fortunate to have an exciting and engaging panel with a diverse range of perspectives. We were joined by Ali Knott, Rachel Kelly, Megan Tapsell, and Frith Tweedie, who collectively contributed te ao Māori, academic and subject research, industry, human rights, and privacy perspectives to the kōrero.
With the rapid development of ChatGPT and other forms of generative artificial intelligence, we thought this would be a great time to use this platform to take a system and public view of the impact, uses, benefits and potential concerns related to AI technologies and development, focusing on whether current regulatory settings are right, and what might need to change.
Panel members shed light on the transformative potential of Generative AI, while highlighting the urgent need to update regulatory systems to meet the unique challenges it poses. For example, Megan highlighted that data underpins the technology we are driving, "we need to educate ourselves around what AI is and means…we need to bring this into an Aotearoa context to what we're doing".
As leaders of the New Zealand data system, it is important that we try and get this right. The first step to this is starting these conversations. Frith pointed out "it's important to take a balanced approach that isn't blinded by the AI sparkle dust… good intentions don't always equate to good outcomes... we need to go in with our eyes open".
By fostering collaborative, transparent, and ethical regulations, we can unlock the full potential of Generative AI while safeguarding societal values and interests. If we can embrace responsible AI development by having these conversations now, this will enhance the public's awareness and will be key to using AI's power for the future, as we work towards progression in New Zealand's data system.
You can watch the talk by visiting Raraunga Ara Rau speaker series: ChatGPT and generative AI on YouTube.
To be added to the contact list for future events, please contact dataspeakerseries@stats.govt.nz.