New Zealand Legislation website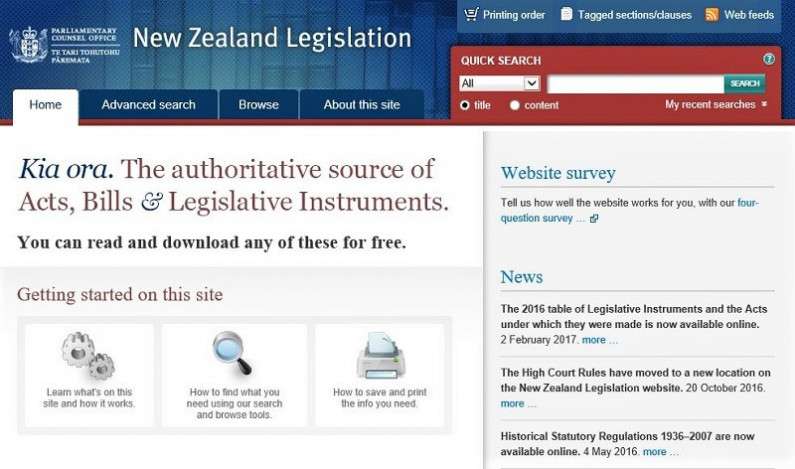 What we do
The New Zealand Parliamentary Counsel Office (PCO) Te Tari Tohutohu Pāremata is New Zealand's law drafting and publishing office.
The PCO is responsible for:
What we created
Providing access to legislation is a fundamental part of the PCO's role – and in 2008 they launched the New Zealand Legislation website. The site provides free access to legislation, including up-to-date reprints of Acts and Legislative Instruments.
Use of the website has increased significantly over time. In the year July 2016 to June 2017, it had an average of over 250,000 visitors per month.
How it works
New documents – and new versions of existing documents – are published on the website.
At the same time, PDF and XML versions are added to a subscriber website. An RSS feed enables users to get a notification when this happens. Users who wish to download and maintain their own database of New Zealand legislation can use this functionality to do so.
The XML directory structure for the subscriber website, which provides access to current and all previous versions of legislation in XML and PDF formats, is available through data.govt.nz:
The Document Type Definitions (DTDs) for legislative documents can also be accessed via the site (these define the structure of the XML versions of legislation).
Challenges and opportunities
There is no copyright on New Zealand Acts, Bills, Legislative Instruments and Supplementary Order Papers, which simplifies their release.
Making the XML versions of legislation and the associated DTDs freely available means the data can be used and repurposed by business, researchers and citizens. (The XML data behind the website is well structured and machine readable, so publication isn't limited to the PCO's chosen platforms.)
This case study was updated on 24 August 2017.
Re-use of this case study is licensed under a Creative Commons Attribution 3.0 New Zealand Licence.