Wellington's first open data meetup of the year: validating, creating, and playing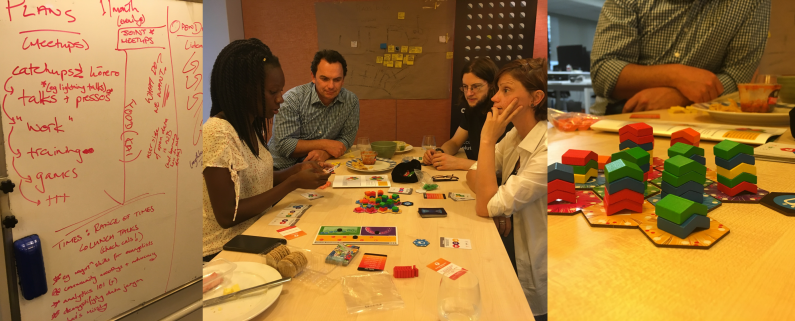 Last night we held the first open data meetup of the year in Wellington. The purpose of the meetup was twofold:
to test and validate our ideas about how to organise open data Wellington meetups this year
to play some Datopolis or Creative Commons Release 'Em Poker, as we know from previous meetups that people are keen to learn.
We also wanted to let people know about Open Data Day on 2 March, and find out whether they had any specific ideas for challenges or datasets on which to focus during the mini hackathon.
Open Data Day – registrations still open
Validating our ideas
Our ideas about open data Wellington meetups this year
We've previously proposed widening out the meetup to include a range of formats, including:
catchups and kōrero
talks and presentations
training and shared learning sessions
shared working sessions, where people come together to work on projects
games sessions – Datopolis, Creative Commons Release 'Em Poker, and other relevant games people bring along or want to try
anything else participants would like.
General feedback was that we incorporate the catchups and korero into each meetup, rather than having meetups focused only on catching up.
We also discussed having formats like lightning talks and lunchtime sessions, to allow for people who can't make evenings, and choosing different days of the weeks for evening sessions. One thing was clear – people were keen on the idea of at least one meetup per month, to help build and keep momentum going.
One especially exciting idea was the idea of joint meetups, to help crosspollinate and reach out further into our communities.
Finally, we discussed how user focus was vital – everything we organise should have what people want at its core. We threw around some great ideas for talk and training topics, and are always keen to hear more from you!
Ideas so far include:
demystifying data jargon
analytics 101
making maps using open data
communication and advocacy skills for open data advocates.
Open Data Day
We also briefly discussed Open Data Day (ODD), happening in Wellington on 2 March (and some other great-looking upcoming Wellington events). We wanted to make sure people knew about ODD, and to encourage them to send us ideas for specific challenges or datasets to focus on during the day.
Open Data Day – registrations still open
Ideas include:
a 'MythBusters'-type format, where people can look for data to prove or disprove things they hear or read about
choosing a particular topic and then seeing what, if any, open data is available around it – we can take this feedback to the relevant agencies, too
tackling the international ODD topics of open science, open mapping, tracking public money flows, and data for equal development
tackling the Open Data Charter's strategic focuses on climate change, corruption, and the gender pay gap.
International Open Data Day resources (Open Data Day)
Open Data Charter – 2019 strategy (Open Data Charter blog)
Let us know if you have any ideas – we'd love to hear them.
Learning by gaming
Finally, we sat down for a game of Datopolis – a new experience for many of the players. It's a game one needs to play to understand properly, and it was wonderful to see how empowering open data is for innovation ecosystems.
Confusion and laughter abounded, and we'll be bringing it – as well as our Creative Commons Release 'Em Poker card decks – to every meetup from now on.
Creative Commons Release 'Em Poker (Tohatoa Aotearoa Commons)

Thanks to Ackama for hosting us at their lovely offices – we'll be back!
For upcoming meetups and other open data-related events, keep an eye on the events section of this website.
The meetups are open to everyone, and take place around the country, with more locations coming this year.
Contact us
We love hearing from you, so please don't feel shy. You can share your thoughts and feedback by: