Based on existing standards and data concepts, data content requirements establish a consistent way for collecting, formatting, recording, and/or storing information across government. The purpose of the requirement may vary depending on what the requirement covers.
Date of birth
For example, there are many ways of collecting date of birth but the various ways it is formatted causes confusion for government organisations sharing this data. The data content standard for date of birth defines date of birth and focuses on the format for organisation sharing but does not cover collection.
The way that person names are collected is important to the way it can be shared. If names are collected as free text it is difficult to break into 'given name' and 'family name'. As with date of birth, this data content standard focuses on the format for sharing, but will also have implications for the way names are collected.
What are the requirements based on?
A prioritised list of data concepts is used to chose data requirements for development. Where possible, data content requirements reference existing standards, including a range of international, local, and statistical standards. Figure 1 below demonstrates this relationship between data content standards, data content requirements, and data concepts behind the development of data content requirements.
The data content requirements may also include links to other helpful guidelines.
Register of government data content requirements
Figure 1: Overview of data content standardisation elements.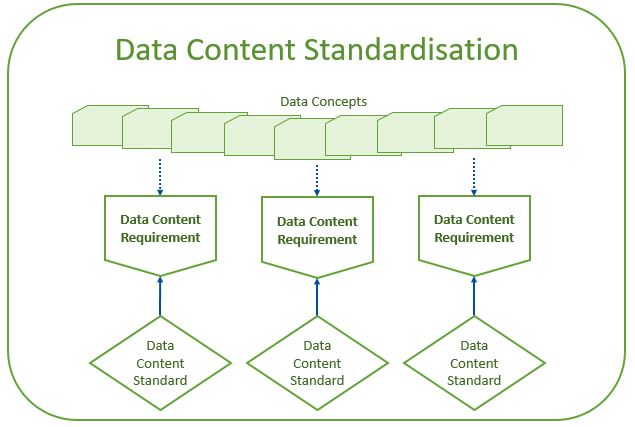 Contact us
If you'd like more information, have a question, or want to provide feedback, email datalead@stats.govt.nz.
Content last reviewed 11 January 2021.